Our Hackerspace is currently for members only.
No Visitors allowed due to Covid-19 guidelines.
We will keep you informed on the chaosstuff mailinglist!
Get in touch
There are different means to get in touch with us: Sending a mail to info@c3l.lu or over at Twitter: @c3l_. Press & Media should use press@c3l.lu or call +352-27-40-20-30. Please note that we are all doing voluntary work here. Do not expect immediate responses! There are simply no office hours.
You can also visit us in our hackerspace ChaosStuff. See also our Guidelines.
We have a publicly-available MUC channel on our XMPP server. Everyone, member an non-member, is welcomed to join and chat with us: c3l@conference.c3l.lu
Events
A summary of events and activities taking place in the near future, is featured down below. For a full list, please consider the events page or subscribe to our atom feed.
Weekly Gatherings
ChaosMeetings will usually take place every second Monday at 8 PM in the ChaosStuff.
Check out the Meet-Up. Everyone is very welcomed to join us and contribute in whatever form, which is helpful to our causes!
We are currently:

News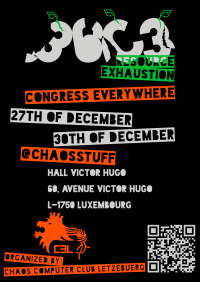 As all year, we will provide a place for watching the stream from the 36th Chaos Communication Congress. From the 27th until the 30th of December, the ChaosStuff will be open for everyone. More information can be found here.
Proudly supported by: