By order of the commune: we are closed until further notice. Stay healthy and hack the planet…remotely!
We will still be available over our XMPP MUC and over mumble.
Ist unser Hackerspace OFFEN aber unsere Eingangstür abgeschlossen, dann bitte bei uns melden!
In Kontakt treten
Es gibt verschiedene Möglichkeiten mit uns in Kontakt zu treten: Sie können ein E-Mail nach info@c3l.lu senden oder uns über Twitter: @c3l_ erreichen. Presse & Medien sollen press@c3l.lu benutzen oder folgende Nummer anrufen: +352-27-40-20-30. Bitte beachtet, dass wir den Verein als Hobby betreiben. Erwartet keine regulären Öffnungszeiten oder prompte Antworten auf E-Mails oder Anrufe!
Sie können uns auch in unserem Hackerspace ChaosStuff besuchen.
Veranstaltungen
Einen Überblick über die nächsten Aktivitäten findet ihr hier. Für eine komplette Liste, schaut auf unserer Veranstaltungsseite vorbei oder abonniert unseren Atom Feed.
Wöchentliche Treffen
Unsere ChaosMeetings sind normalerweise jeden zweiten Montag um 20 Uhr in der ChaosStuff.
Kommt auch mal auf ein Meet-Up. Hier ist jeder herzlich willkommen.
Wir sind momentan:

Vergangene Veranstaltungen
Neuigkeiten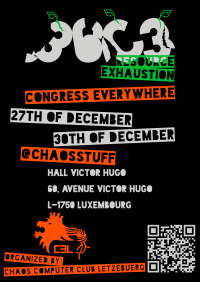 As all year, we will provide a place for watching the stream from the 36th Chaos Communication Congress. From the 27th until the 30th of December, the ChaosStuff will be open for everyone. More information can be found here.
Mit herzlicher Ünterstützung von: