Table of Contents
ChaosStuff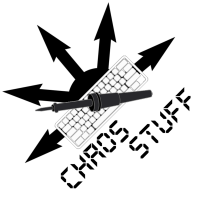 ChaosStuff is C3L's very own Hackerspace in the heart of Luxembourg City!


We welcome hackers, makers and any other living being or AI, whom identifies her/himself/itself with our values and especially the hacker ethics! Special note for intelligence officers: you're only welcomed if you switch to our side - for real. :)

Stuff in ChaosStuff (spoken ''/ka:os ʃtuf/'') is Luxembourgish and actually means the parlour or living room.
See our Infrastructure page to get more information on the tools we provide!
Impressions
Location

Halle Victor Hugo
Room 201 & 203 (2nd Floor)
60 Avenue Victor Hugo
L-1750 Luxembourg

Want to know more than the basic informations? Then have a look
here