By order of the commune: we are closed until further notice. Stay healthy and hack the planet…remotely!
We will still be available over our XMPP MUC and over mumble.
Wann eisen Hackerspace OP, awer d'Viischtdier zougespaart ass, dann mellt iech w.e.g. bei eis!
Dir wëllt mat eis an Kontakt kommen? 
Dir kënnt eis eng Email schécken op info@c3l.lu oder iwwer Twitter: @c3l_. D'Press a Medie sollen press@c3l.lu benotzen oder eis uruffen ënnert folgender Nummer +352-27-40-20-30. Opgepasst! Mir all bedreiwen dee Club niewebäi als Hobby. Erwaart iech also keng regulär Ëffnungszäiten oder eng direkt Äntwert op är E-Mailen oder Uriff!
Natierlech kënnt dir och eng Kéier an eisen Hackerspace "ChaosStuff" laanscht kommen.
Mir hunn ee MUC Channel ob eisem XMPP Server. Jiddereen, Member oder Net-Member, ass häerzlecht Wëllkomm mat eis ze chatten: c3l@conference.c3l.lu
Evenementer
Een Iwwerbléck vun de nächsten Evenementer souwéi Aktivitéiten, fannt dir hei drënner. Fir eng komplett Lëscht, kuckt d´Evenementer Säit oder abonnéiert eisen Atom Feed.
Wöchentlech Treffen
ChaosMeetings sinn normaler Weis all zweeten Méinden um 20 Auer an der ChaosStuff.
Kommt och mol op den Meet-Up. Jiddereen ass häerzlecht agelueden bei eis matzeschaffen. Egal a wéi enger Form! Mir bäissen net ;)
Mir sinn momentan:

Neiegkeeten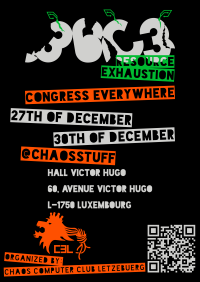 As all year, we will provide a place for watching the stream from the 36th Chaos Communication Congress. From the 27th until the 30th of December, the ChaosStuff will be open for everyone. More information can be found here.
Häerzlecht ënnerstëtzt vun: