cryptoParty @ Carré Rotondes (Exit07)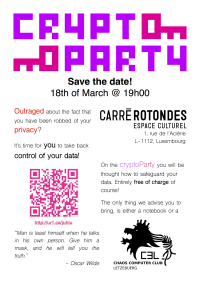 In our opinion, a cryptoParty needs to be in a cozy place without too much of an academic touch. Meaning: there will be 30 minutes of lectures at most and the rest of the time will solely be used to answer peoples questions and show them how to safeguard their data.

We are glad about the fact, that Carré Rotondes offered us the opportunity to host the event at their great place, which has a long story of events by activists fighting for the right cause and offers exactly the frame we were looking for!
So, if you are interested in how to protect your data and communications from curious companies and governments, this cryptoParty will be the event you need to attend to!
Let's hack towards a better future!
news/2015/0305_cryptoparty_carre_rotondes_exit07.txt · Last modified: 2015/07/15 21:54 (external edit)