Woodworking Area
Equipment
Scrollsaw
Wear safety glasses!

Watch your fingers!

You should always have control over your working material!

This is a saw, it doesn't think for you!

Use only after you been briefed!
Workmodes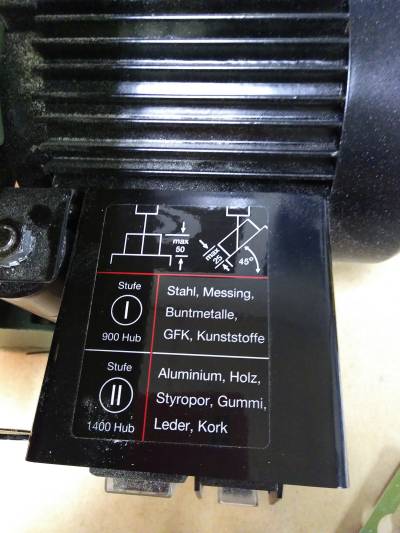 | | |
| --- | --- |
| Speed 1 | steel, brass, non-ferrous metals, glass-fiber, plastics |
| Speed 2 | aluminium, wood, styrofoam, rubber, leather, cork |
Tilting the working surface
Unscrew.

Dial in the tilting degree.

Screw tight.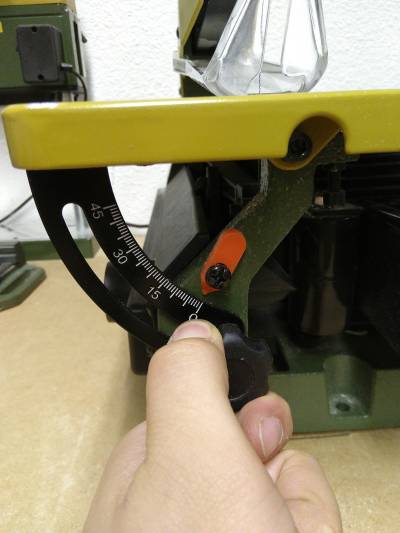 Seeblieder wiesselen
Wichteg. Mir hunn 2 generell Zorten vu Seeblieder fir eis Dekupéiersee. Eng kéier déi, mat engem Splënt, an déi ouni. Déi mam Splënt sinn eng Grëtz méi einfach anzesetzen wéi déi ouni, dofir kennen déi ouni Splënt och bei der Laubsäge benotzt ginn.
Seeblieder ouni Splënt mussen festgeschrauft ginn.

Déi mat Splënt däerfen net festgeschrauft ginn!
Seeblat mat Splënt 
| | |
| --- | --- |
| Uewen lassschrauwen | |
| Den Seearem erofdrécken an dat alt Seeblat eraushuelen | |
| Seeblat fir d'éischt ënnen aklemmen. Mat den Zänn no fir an t'ass se erof weisen! | |
| Dann d'Seeblat uewen akropen | |
| Uewen erëm alles festdréinen. Net iwwerdreiwen! | |
| Dekupéiersee ass asazbereet. | |
Seeblat ouni Splënt
| | |
| --- | --- |
| Uewen lassschrauwen | |
| Den Seearem erofdrécken an dat alt Seeblat eraushuelen | |
| Seeblat fir d'éischt ënnen festschrauwen. Mat den Zänn no fir an t'ass se erof weisen! | |
| Dës Seeblieder mussen festgeschrauft ginn!!! | |
| Uewen erëm alles festdréinen. Net iwwerdreiwen! | |
| Dekupéiersee ass asazbereet. | |