Get in touch
There are different means to get in touch with us: Sending a mail to info@c3l.lu or over at Twitter: @c3l_. Press & Media should use press@c3l.lu or call +352-27-40-20-30. Please note that we are all doing voluntary work here. Do not expect immediate responses! There are simply no office hours. Secondly, we are not a computer repair shop. Don't contact us to ask if we can fix your computer. Also read this FAQ, before contacting us.
You can also visit us in our hackerspace ChaosStuff. See also our Guidelines.
We have a publicly-available Channel on our XMPP and Matrix server. Everyone is welcome to join and chat with us:
XMPP: c3l@conference.c3l.lu

Matrix: #c3l:matrix.c3l.lu
Events
A summary of events and activities taking place in the near future, is featured down below. For a full list, please consider the events page or subscribe to our atom feed.
Weekly Gatherings
ChaosMeetings will usually take place every second Monday at 8 PM in the ChaosStuff. Check out the Meet-Up. Everyone is very welcomed to join us and contribute in whatever form, which is helpful to our causes!
We are currently:

News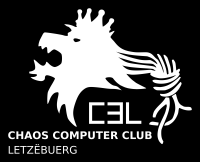 Wéi dir bestëmmt wësst, huet d'Lëtzebuerger Regierung bis de 7. Juni Zäit, fir d'"Digital Single Market" Direktiv (2019/790), wou et ëm d'Auteursrechter/Copyright geet, an ee nationaalt Gesetz ëmzesetzen. Dës Gesetzgebung wäert d'Reegelen nei gestalten, déi d'Benotzererfarung vun haut massiv beaflossen.
De Chaos Computer Club Lëtzebuerg huet dozou ee Positiounspabeier geschriwwen deen déi bescht méiglechst Implementatioun vun deene verschiddenen Artikelen vun dëser Direktiv opgräift.
Den Oflaf vun der Pressekonferenz gesäit folgendermoossen aus:


13:30 Entrée & Verdeelung vum Positiounspabeier

14:00 Ufank vun der Pressekonferenz

14:45 Froeronn

15:15 Ofschloss
Mir lueden Iech dowéinst häerzlechst den 1ten Februar ab 13:30 Auer an d'Victor Hugo Hal, iwwer d'Säitenentrée op den zweete Stack, ze komme wou mir eise Positiounspabeier wäerte virstellen an eis Websäit lancéieren.
Opgrond vun den aktuelle Mesure biede mir iech, eis kuerz Bescheed ze soen ob dir kommt an zu wéi vill.
Mat frëndleche Gréiss, Chaos Computer Club Lëtzebuerg
Proudly supported by: